Added value: successfully implemented ideas
You are looking for complete automation solutions, for optimal working and easy operation of your machines?
Then we should talk together!
From design up to service, including engineering and switchgear, we develop your solutions for your future challenges.
Design
Control concepts
Operating concepts
Networking
Industry 4.0 / IoT
Standardization
Developing ideas:
You have new ideas and you want to realize them?
In co-operation with you, we develop concepts for tomorrow's innovative machine functions, networking and safe machine operation, both for new plants and modernization.
Engineering
PLC software
Electric diagrams
HMI / SCADA-software
Sistema proofs
GMP documentation
Implementing ideas:
You need support for the development of your ideas?
We provide you with optimal functions, low-maintenance and easy-to-operate plants thanks to professional design implementation both in hardware and software development.
Electrical cabinets
Single/series cabinets
Clean room versions
UL 508A Panelshop
ATEX environments
Commissionings
Building ideas:
You think that good engineering deserves optimal implementation?
We manufacture and install switchgear tailored individually to your special and series machines. Precise, for low-maintenance operation and optimal machine functions.
Service
Spare parts
Remote maintenance
Comprehensive support
Retrofit solutions
Direct contacts
Servicing ideas:
You need a reliable service after delivery?
You can rely on us: you will benefit from our service with modern tools and competent support that will ensure high availability and short downtimes.
---
PROJEKT EXAMPLES
Container mixing plant
Features
• GMP/GAMP5 systems including documentation
• Comprehensive options system, variants saved in the software
• Price list for sales and project management
• PLC Siemens ET200SP-F / zenon / certon / WinCC TIA / SEW FUA / SEW FU
Together with a customer manufacturing container mixing plants, we implemented an example for the consistent implementation of standardization strategies. These facilities are characterized by a wide variety of options and areas of application. In the past, every facility required a specific hardware and software design produced on the basis of previous specifications. This often resulted in incalculable costs and long delivery times.
For the manufacturer, the standardization had to meet the following key points: firstly, quick price finding in the offer phase, secondly, compliance with the project costs, and especially thirdly, quick commissioning. We defined the software and hardware optimally, in a manner similar to the options. We set up a price list for the sales, and the software simply has to be configured according to customer requirements. All this automatically results in quick commissioning.
---
Pharmaceutical extruder
Features
• GMP/GAMP5 systems
• Comprehensive documentation
• SPS S7-15xx-F / zenon / certon / Siemens FU
The pharmaceutical industry is increasingly switching to continuous production. The advantages lie in the reduced space requirement and in the larger quantities that can be produced with a "batch". In addition, extruders are used for mixing under pressure and heat. We have been supplying for many years the pharmaceutical automation equipment for a renowned extruder manufacturer. Generally, we are not only in charge of the automation of the extruder, but also of the integration of upstream and downstream equipment such as dosing carts, calenders and cooling conveyors. Seger-own software certon is used for forgery-proof data collection and for the output of relevant batch protocols. Seger Automation's scope of supply is rounded off with the creation of the comprehensive pharmaceutical documentation, from the specification up to the test reports.
---
Continuous mixing system for pharmaceutical applications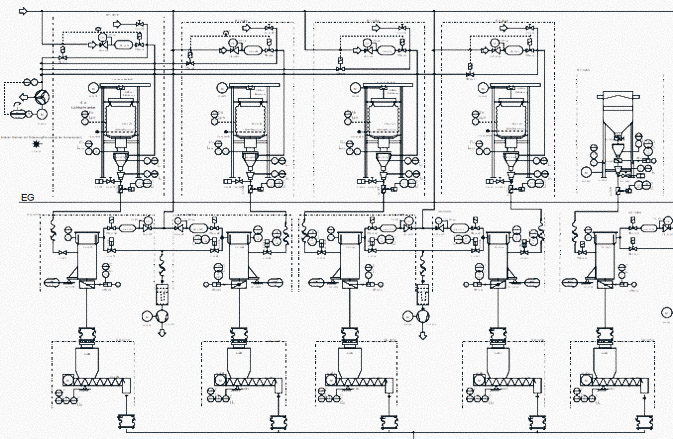 Features
• GMP/GAMP system
• Options system with project-specific activation
• Standardized electric diagram
• PLC S7-15xx-F, WinCC Pro / Schneider FU / Ktron feeder
Short delivery times and compliance with calculated costs are of particular importance for mechanical engineering. The consistent implementation of facility standardization is a possibility to achieve this goal. Besides the mechanical engineering, this is a challenge also for the automation. A crucial point is here not to lose flexibility despite the standards. The proper definition of the modules plays a key role here.
We have now implemented this successfully in co-operation with a manufacturer producing mixers for solids. Modules in the electrical cabinet and hardware areas co-operate optimally with the software modules, which can be enabled or disabled according to configuration of the facility. The result: price lists for sales, quick software configuration and reduced hardware engineering costs. Of course, GMP/GAMP5-compliant!
---
Contact us!
07622 688 379 350 or send us your request to automation@seger-automation.com