certon2022 – only what is documented counts.
You want a simple and efficient machine data collection to document the quality of the produced goods?
certon provides you with a software solution that can be flexibly linked to almost all data sources. certon does not require any programming, it must simply be configured. This greatly simplifies its integration also in existing facilities. Not only in the GMP area!
certon includes the certonLOG and certonVIEW modules. certonLOG records the data and certonVIEW allows visualizing and further processing the data. The modules can be installed on a Windows PC. For all machines and plants not equipped with a PC, Seger Automation provides with certonBOX a compact top-hat-rail PC with all required components preinstalled.
Let our new certon film convince you!
Would you like to know more? Our expert Roland Kraft will be happy to advise you by telephone +49 7622 688 379 350 or per mail: roland.kraft@seger-automation.com
---
This is how it works!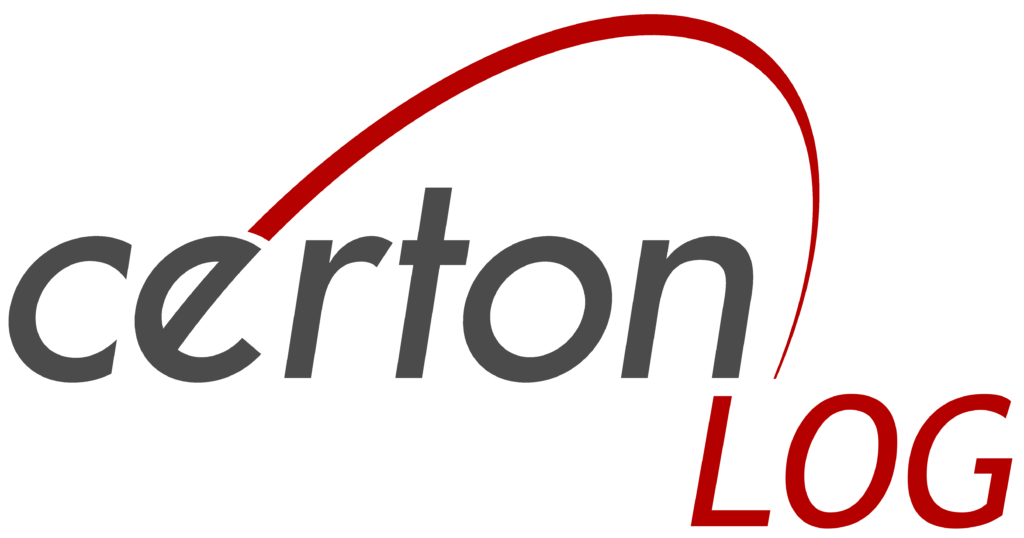 Data collection
certonLOG collects the data via OPA-UA. This universal software interface ensures safe connection with a wide range of PLC and SCADA systems. certonLOG can be installed on the PC of the machine or on an external computer, which makes its integration easy, e.g., in the case of retrofitting and modernization.
certonLOG saves the data per recording unit in a SQL data file. This makes later data archiving easier, as the data can conveniently be transferred to the archive server by copy/move. A csv table allows easy configuring of the data that is to be recorded by certonLOG. All entries are always logged with date, time, old and new value and current user.
Furthermore, the recording moment can be selected freely (cyclic, at the beginning, at the end, in case of a change, etc.).
Typical data recording
Cyclic recording of measured values (e.g., temperatures, filling levels, pressures, etc.)
Alarms and messages
Operating actions (value changes, operator interventions)
Audit trail
---

ON_Start: Data point is logged at the start of the recording.n der Aufzeichnung aufgezeichnet.

ON_End: Data point is logged at the start of the recording.
ON_Interval: Data point is continuously logged with a definable sampling ratearen Abtastrate aufgezeichnet.

ON_Edge_F: Data point is recorded for falling edge.

ON_Edge_R: Data point is recorded for rising edge.

ON_Change:
Dead band: Minimum required change for logging.
Sampling rate: Time between value examination
New Logtypes
In addition to ist previous singleLOG, by which an individual data recording is carried out, certon2022 provides two more Logtypes. The parallel LOG and the back-to-back LOG.

parallelLOG
Do you have multiple data sources or do you want to carry out various records with one source?
parallelLOG makes it possible!
Up to three LOG's can be recorded with various configurations. For each configuration you can select an own OPC-Server.

back2backLOG
Do you have continuous processes that cannot be stopped and nevertheless you desire to record batch-oriented?
Back2backLOG makes it possible!
Thanks newer memory buffer a new LOG can begin smoothly after a record.
---
New Log Attitude

LOGonTrigger
Many users have been waiting for this function. Do you want to take a snapshot of various data at a specific point? Or to record specific data from an event?
LOGonTrigger makes it possible!
Specifiy Trigger variables and set, whether you want to make a unique record or you want to record until the Trigger disappears. Certon2022 does the rest.
---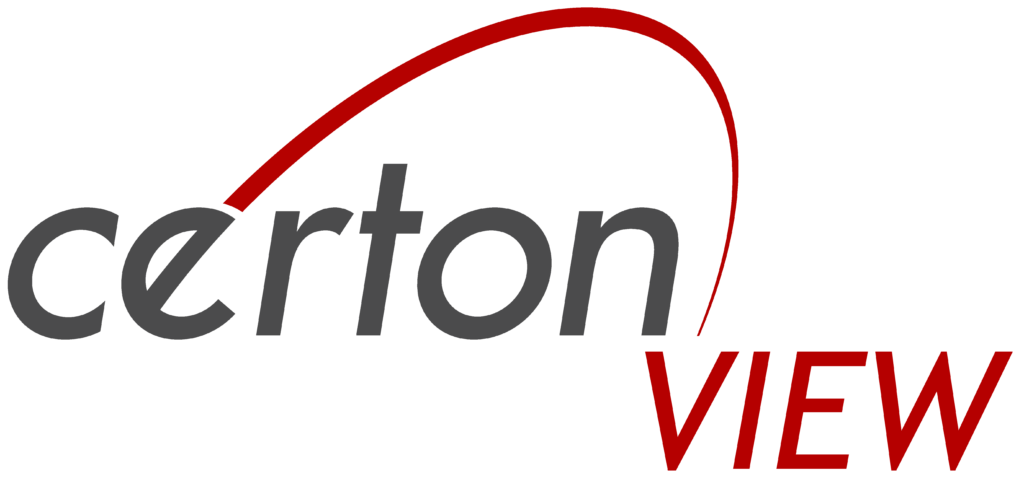 Data processing
certonVIEW presents the recorded data in a clear and structured way. Select the recording unit and have a detailed look on the entries. Filtering and sorting functions allow finding quickly the required entries, even in a large record.
Data is displayed in a structured form in protocols. Important production data can be displayed in separate areas and grouped in value lists. The audit trail displays all operations in chronological order. The display of measured values in trend diagrams is particularly clear and readable.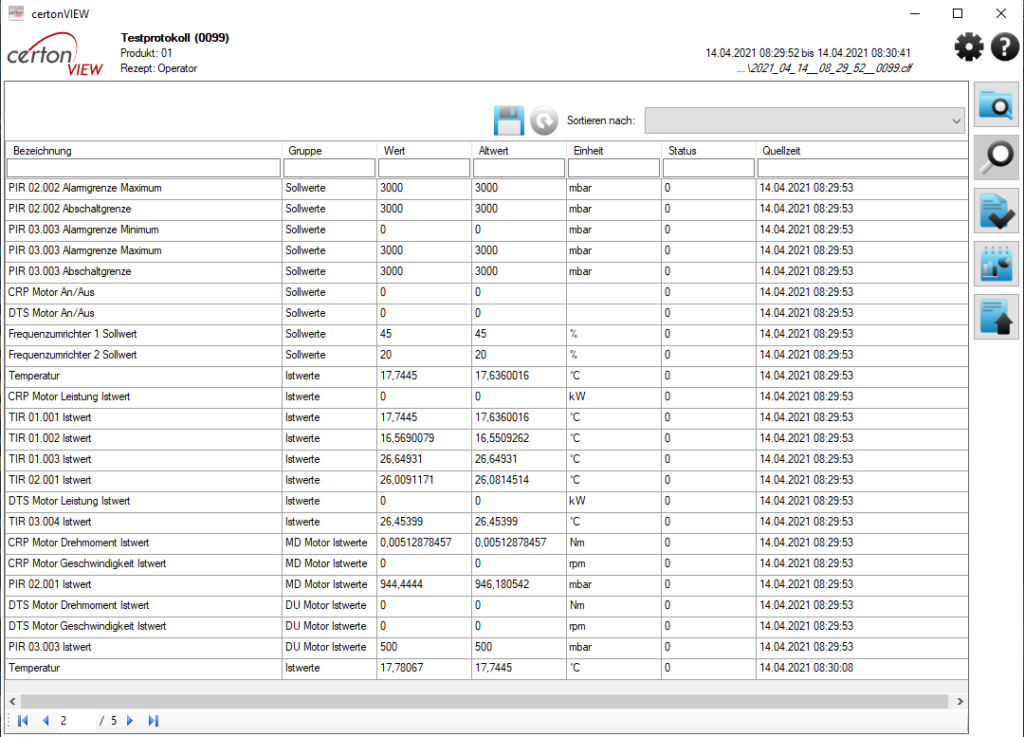 Protocol design is based on crystal Reports (SAP). certonVIEW is supplied with a report template. The report viewer is integrated in certonVIEW. You want to process your data further? certonVIEWalso allows data export in Excel, XML or RTF. Of course, all protocols can be printed or saved in the PDF format.
---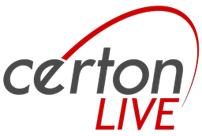 Do you want to observe the values during the data record, view the Audit-Trail or consider analogue sizes in curve shape?
certonLIVE makes it possible!
Compile lists and various curves in certonLIVE and keep the overview already during the production.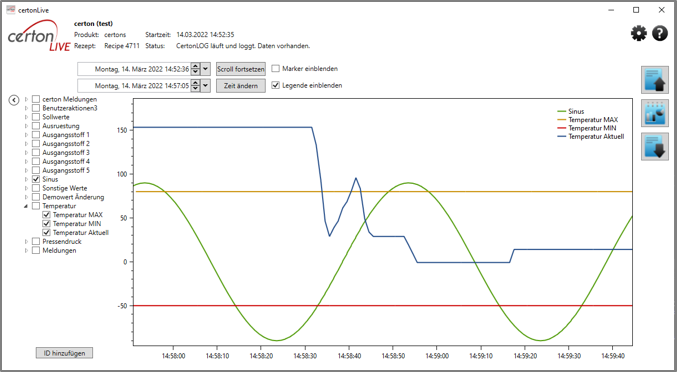 ---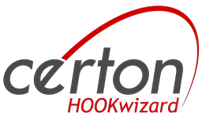 What to do with the data after recording? Creating reports in different formats, copying, sending, filing – these functions by hooks existed for longer in certon. But yet you want an easy creation of hooks?
HOOKwizard makes it possible!
Now the HOOKwizard exists in order to create Hook-Files easily and quickly. In no time at all you set operations that should be executed at the end of the data record. The Hook-file will be created automatically and can be involved. There is no faster way!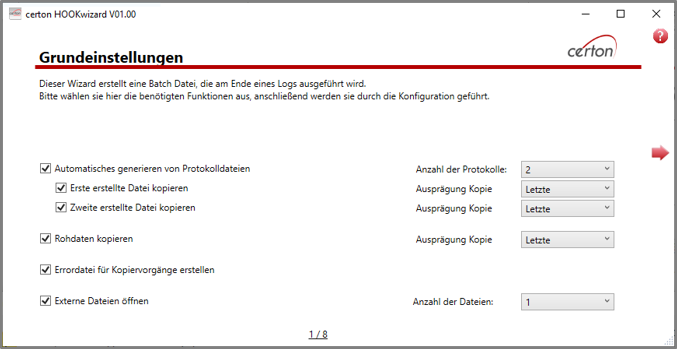 ---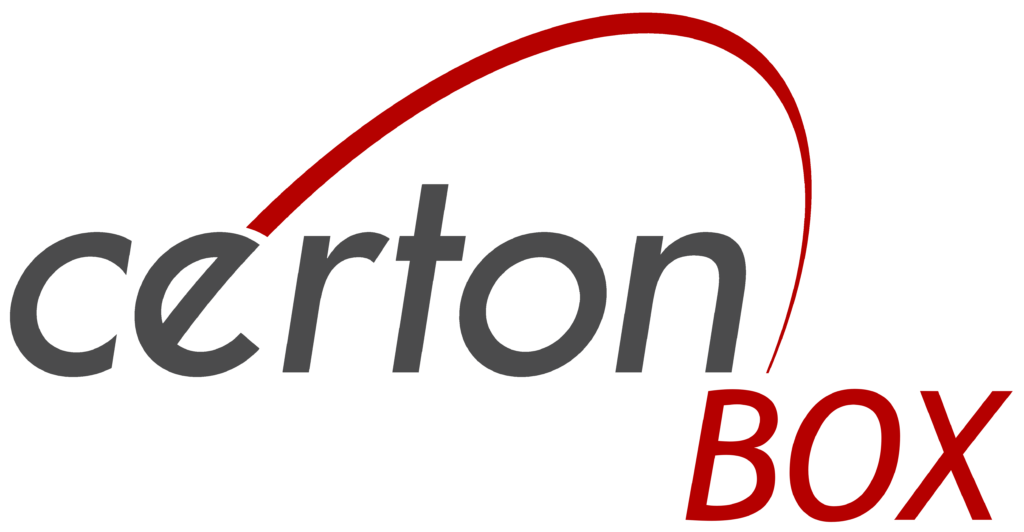 The convenient all-in-one solution
The certonBOX combines all components required for data collection in one single system. The compact top-hat-rail PC allows space-saving integration in almost any plant. Ideal for retrofitting or for systems without PC, for example flexible SIEMENS WinCC* applications.
*WinCC is a trademark of Siemens AG
The certonBOX adapts to your requirements. Choose between LOG and LOG+ (GMP). An OPC server is already available or certonVIEW is running at another location in the network? Seger Automation configures the certonBOX according to your specifications!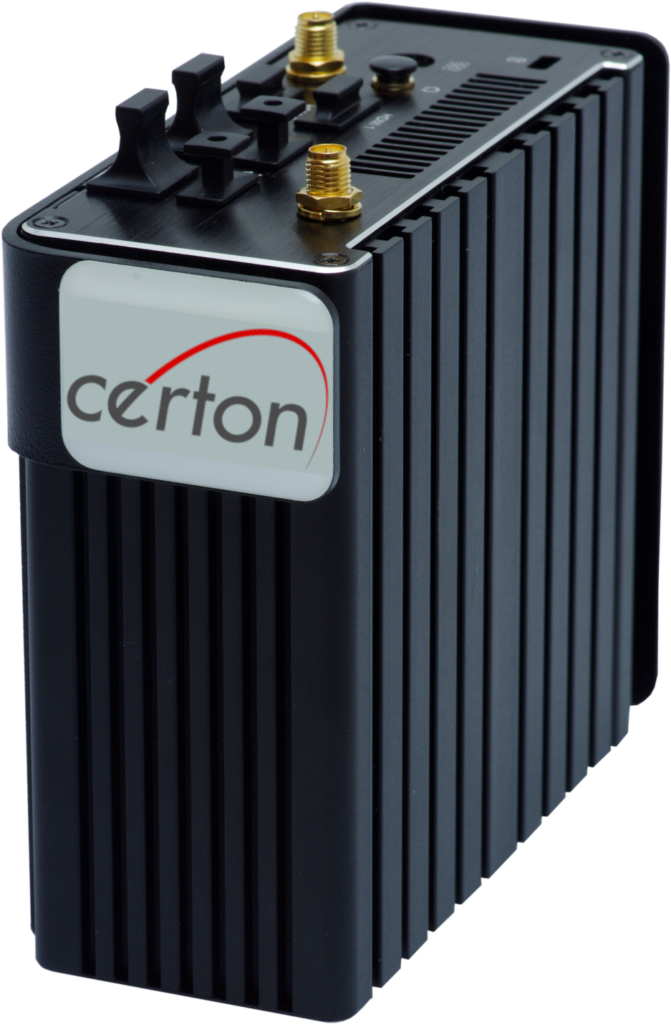 The certonBox – All in one
Compact, powerful top-hat-rail PC
Windows 10 – 64 bits
Uninterruptible power supply (UPS)
certonLOG / LOG+
certonView
OPC UA server software
---
New Features
storageWATCH
Data needs space and there is no worse than not enough space to save data. sorageWATCH controls this.
Adjust the absolute or relative storage space for each individual LOG-Configuration. storageWATCH controls the storage space before and during the record and sends a signal via OPC-Interface, if it gets to small. So you can decide if a record should be started or a termination makes sense.
Curves in certonVIEW
Do you want to see curve formed data of a completed data record for an analysis in certonVIEW?
We have integrated the certonLive surface in certonVIEW. So you can compose an individual curve / trendprofile with all available data.
Useability / WPF
You would like to merge certon's user interfaces with your own HMI application?
We have converted all user interfaces in certon2022 to the WPF format. This format makes it much easier to integrate certon's user interfaces into existing customer applications and to adapt them to the look&feel of the machine visualization.
backward compatibility
certon2022 is downward compatible. Configuration files created in certon 2.x can be used in certon2022 without restrictions. A new licensing is necessary when installing certon2022.
---
And here your result!
After storage, the collected data is available for consultation, recording and analysis. This can take place either locally at the machine or conveniently at other work stations.
How can you access your data?
certonVIEW makes the data visible. Filter functions allow identifying relevant data sets. The validation function makes sure that stored data has not been manipulated. certonVIEW can run either on the machine/facility or externally, on a separate computer. Furthermore, certonVIEW offers the possibility to export the data in various formats.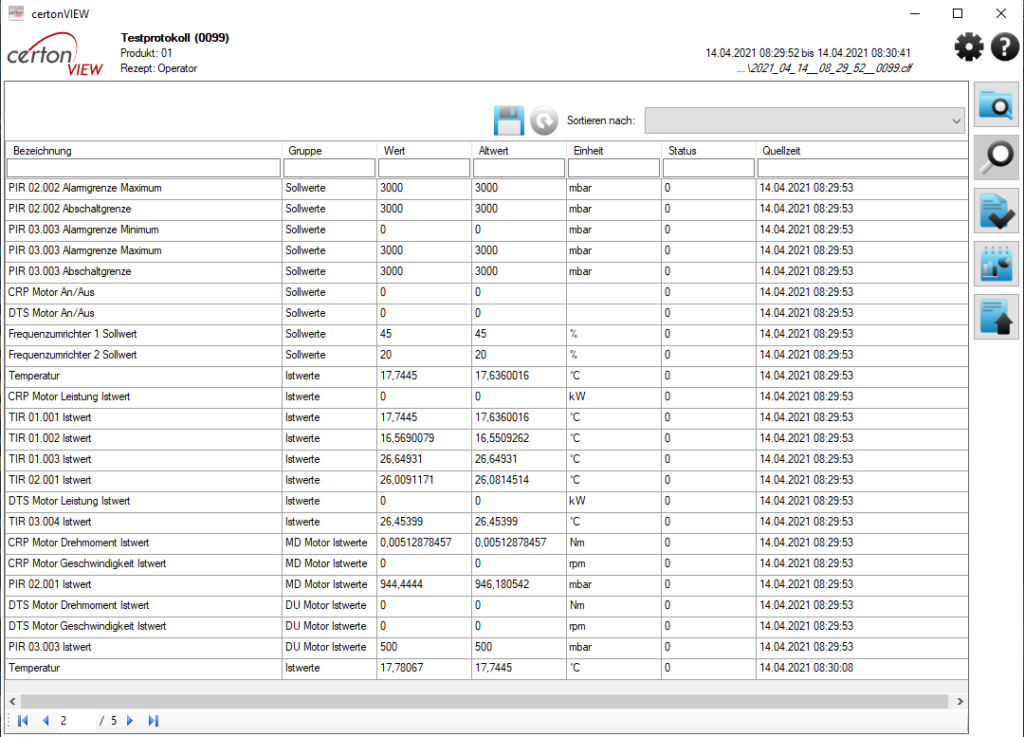 certonLIVE allows you to consult directly the recorded data already during collection, e. g. in the form of curves or tables. This facilitates the quality assessment of a production batch directly during the process.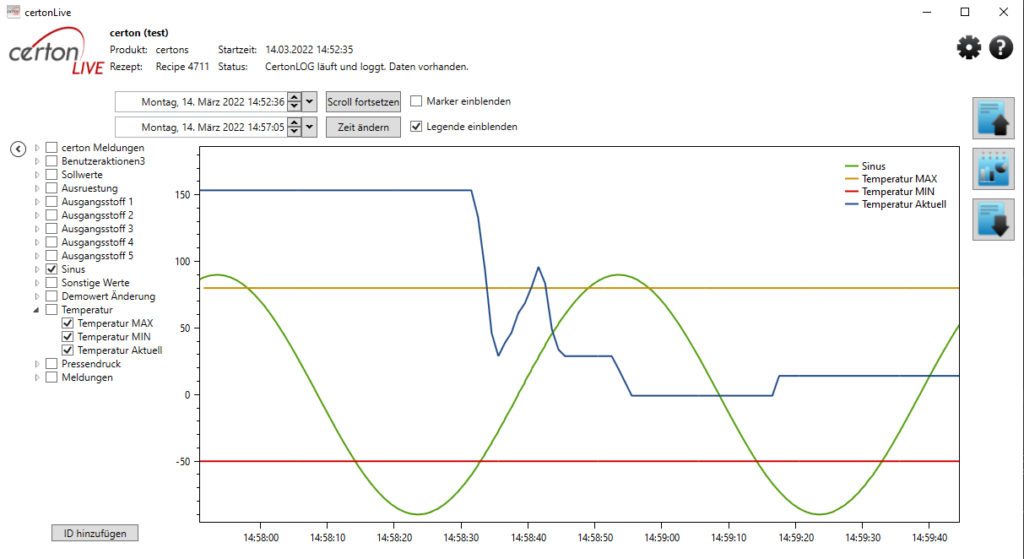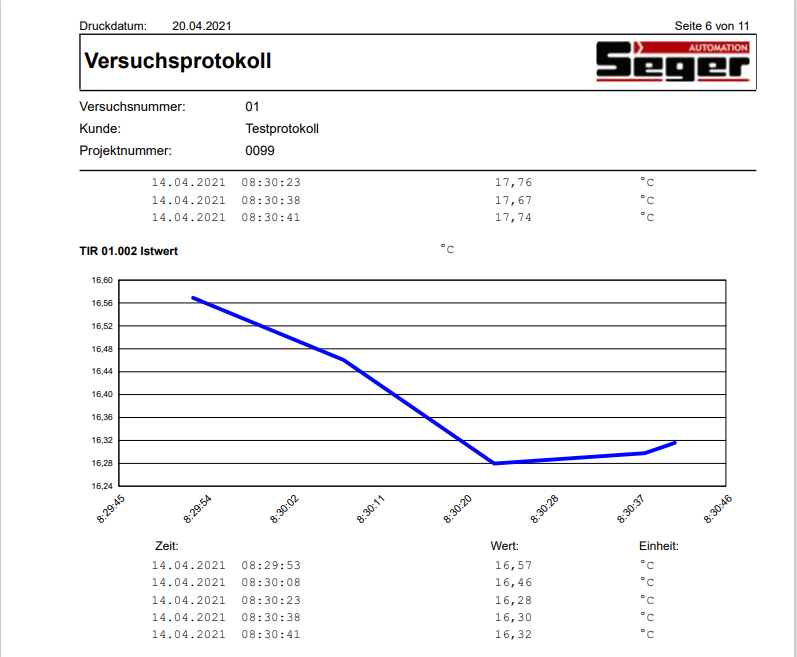 What do your reports look like?
Report templates can use the stored data to produce individual batch reports configured for the application. These reports can be printed or sent automatically after their creation.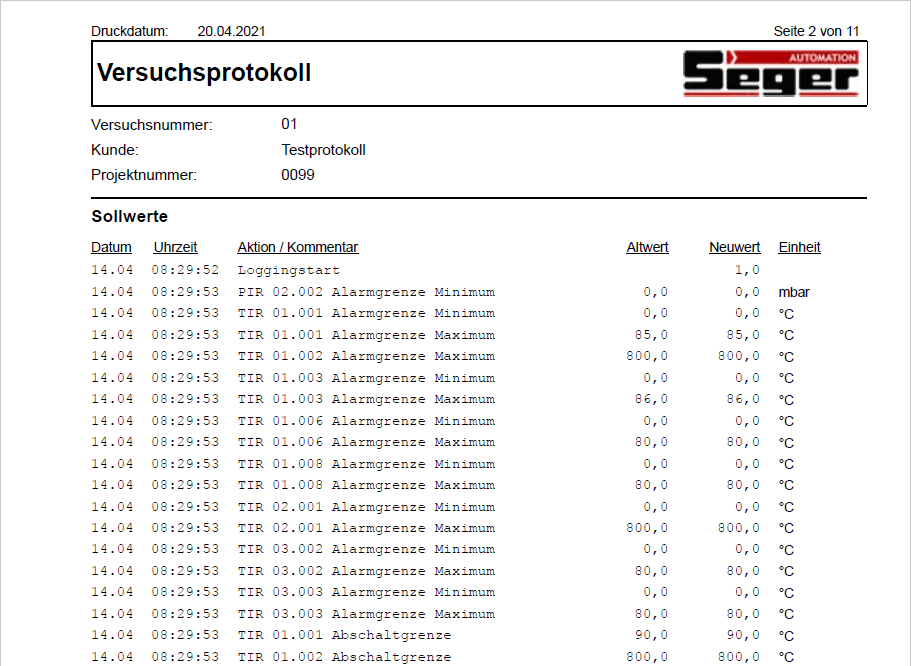 Generally, the Audit-trail, which includes all operator interventions with date, time, old value, new value and the user logged in, is part of the report. This makes the production sequence 100% transparent.
Easy data handling
certon creates a data file per recording unit. This file allows the automated creation of reports and their storage, e.g., in PDF format. You need the data at another location? The data can be copied or moved automatically. Of course, also on network drives.
Archiving and data backups can thus be realized easily in a batch-related manner. This reduces costs, especially with regard to the life cycle management.

---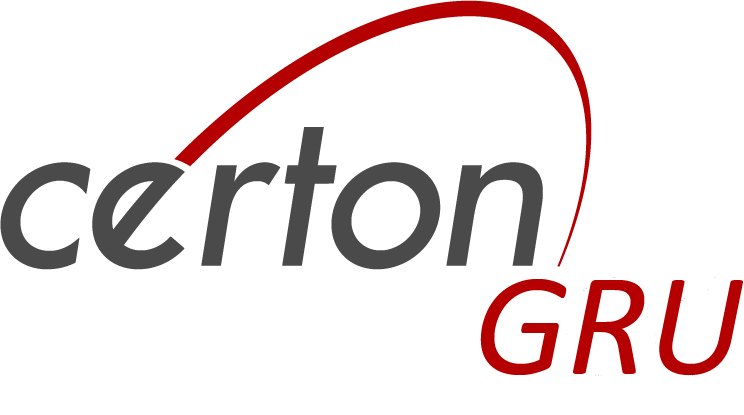 The GMP Retrofit Upgrade for Machines and Plants
certonGRU equips your existing plant with modern GMP data acquisition. certonGRU is modular and can be implemented in different system environments. certonGRU facilitates the documentation of your production and reduces the error rate, because manual recordings are no longer necessary. For each product batch, certonGRU creates a meaningful batch report and stores the raw data in a tamper-proof way according to FDA 21 CRF Part 11 and EG GMP.
Lift your existing plant to the next GMP level with certonGRU now!
GRUproject
You have full accessff to the Soſtware of your plant and can perform Soſtware change management? Then GRUproject is the right choice.
With GRUproject you get a GMP data acquisition similar to a new plant.
GRUdatapoint
SYou don't want to make any changes to your machine, but you know all GMP-relevant data? Then integrate via GRUdatapoint.
With GRUdatapoint, you avoid soſtware changes and reduce change management costs.
GRUsignal
You have no possibility to provide data via Soſtware interfaces? But signals to be recorded can be duplicated or are accessible via hardware? Then choose GRUsignal.
With GRUsignal, the change in the plant is reduced to a hardware addition.
Modular and flexible
Due to its modular design, certonGRU can be used flexibly.
Logging modules for single and parallel logs
Various OPC UA servers
certonBOX as IPC hardware or installation on a virtual machine in the IT environment
HMI for Non-ATEX and ATEX zones 2/22/1/21
Built-in housing for Non-ATEX and ATEX environments
Connection to Active Directory, Timeserver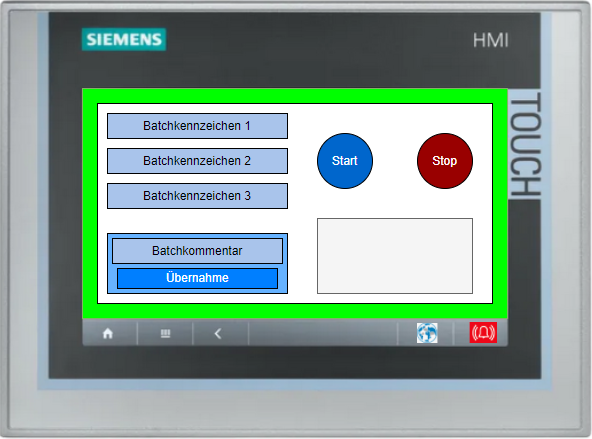 Operation
The clear user interface is used to enter the necessary batch data such as batch number and designation and to start and stop the recording.
Functions:
Start and stop recording
Enter comments during production and transfer to the audit trail
Status messages
GMP user administration
Link to Active Directory and time server
Language switching German/English
Your personal contact will be happy to advise you!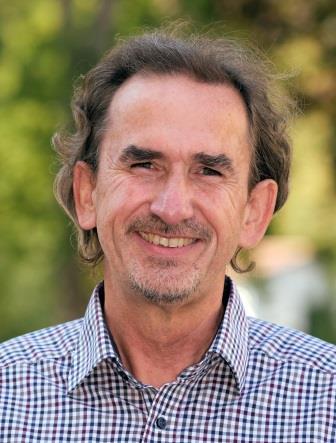 Roland Kraft
Sales Management
+49 7622 688 379 350